//
GARAGE STORAGE ORLANDO
The garage storage solutions Orlando needs.
CONSULTATION
IT'S TIME TO GET ORGANIZED.
CONSULTATION
IT'S TIME TO GET ORGANIZED.
A Message from NEAT GARAGE STORAGE SYSTEMS
The Neat Garage team is passionate towards eliminating clutter in garages. Most of the time garages are neglected and are a place where non essential items are relocated prior to moving on towards the dump truck. Most sensational ideas and start-ups happen in a neat and clean garage. Why park your nice vehicle in a room full of clutter and confusion? Your 4-wheel friend needs to be in a clutter free environment. We enjoy seeing our customer's facial expressions of their new and improved garages. So, why not make yours one of the best in your neighborhood.
Neat Garage Storage Solution's mission is to serve homeowners through simplifying and beautifying a full range of competitive products for your garage. From shelving, cabinets, flooring, and overhead racks we have everything that you need to create the garage you have always wanted. Neat Garage seeks to be the provider of choice for homeowners through quality of work, exceptional customer service, and a brand you can trust.

FREE CONSULTATION
Get a free consultation and estimate before you buy anything.
INDUSTRY EXPERTS
We have the knowledge and expertise to offer you the best solutions.
LOCALLY OWNED
We are a locally owned and operated business.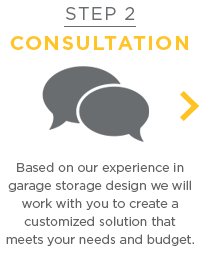 What Do WE Offer?
We recognize that each customer's storage space is unique. That's why we offer individualized garage storage consultation and planning to provide answers to all your individualized questions. Our professional team will install your new garage storage system in usually less than one day so that you can get back to more important matters.
With experienced professionals that have experience with every type of material, you don't have to worry about our system not working with your garage.
Our garage storage in Orlando is completely customizable to individual needs. The quality is unbeatable and the price is the best in the market. With a lifetime warranty, why wait, call us today!
// TRUSTED BY ORLANDO HOMEOWNERS