// GARAGE STORAGE ORLANDO
The garage storage solutions Orlando needs.
CONSULTATION
IT'S TIME TO GET ORGANIZED.
CONSULTATION
IT'S TIME TO GET ORGANIZED.
A Message from NEAT GARAGE STORAGE SYSTEMS
The Neat Garage team is passionate towards eliminating clutter in garages. Why park your nice vehicle in a room full of clutter and confusion? We understand that your 4-wheeled friend needs to be in a clutter free environment and we have the expertise to make it happen.

We enjoy seeing our customer's satisfied with their new and improved garage. So, why not make yours one of the best in your neighborhood?

FREE CONSULTATION
Get a free consultation and estimate before you buy anything.
INDUSTRY EXPERTS
We have the knowledge and expertise to offer you the best solutions.
LOCALLY OWNED
We are a locally owned and operated business.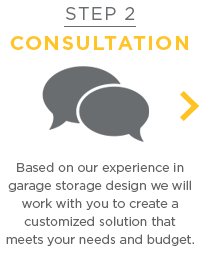 What Do WE Offer?
Neat Garage's mission is to serve homeowners through simplifying and beautifying a full range of competitive products for your garage; in doing so, we seek to be the provider of choice for homeowners through quality of work, exceptional customer service, and a brand you can trust.
With experienced professionals that have experience with every type of material, you don't have to worry about our system not working with your garage.
Our garage storage in Orlando is completely customizable to individual needs. The quality is unbeatable and the price is the best in the market. With a lifetime warranty, why wait? Call us today!